Diamonds Buying Guide
At Ernest Jones, we understand that purchasing a diamond can be an emotional investment as well as a financial one. We have over 60 years of experience in delivering expertise in diamond jewellery, so you can trust and feel confident that you have come to the right jewellers.
As part of the world's largest specialist jewellers, we will be able to go through the characteristics of each and every diamond and guide you in choosing the piece of diamond jewellery that is perfect for you.
If you want that extra peace of mind, a certificated diamond is just the thing. Every certificated diamond comes complete with a Jewellery Identification Report from the International Gemmological Institute, an internationally recognised grading laboratory.
Whether you are looking for more information on diamonds, or you are looking for a specific type of diamond jewellery, our diamond buying guide has everything you need to know.
Our diamond sourcing policy
Is there anything more luxurious than diamonds? At Ernest Jones, we understand how important diamonds can be, whether it comes to finding the perfect diamond engagement ring or choosing the ultimate set of diamond earrings to complete your look. We also understand the need to irradicate unethical diamond sourcing practices from the industry.
Our diamond sourcing promise
We are passionate about our customers and the products we sell, to this end, our promise to you is that the jewellery you buy is sourced responsibly and backed with strong measures in place to monitor the social, environmental, and ethical aspects of our entire supply chain.
We are dedicated to the continuous improvement in the integrity of the global jewellery supply chain as such, we continue to lead the industry in responsible sourcing. We do this, not only because it meets the expectations of our customers and employees, but also because it is the right thing to do.
Conflict-free diamond sourcing
As diamond experts, we like to lead by example. We collaborated with industry partners in the supply chain to advance rigorous sourcing standards through the Signet Responsible Sourcing Protocol (SRSP).
The SRSP is designed to ensure that our supply chain is free of any contribution to conflict or human rights abuses.
The SRSP was developed to establish a global, best-practice standard for our entire supply chain, comprising legal requirements, United Nations guiding principles, and a process of continuous improvement.
The SRSP goes beyond the legal requirements, implementing best-practice standards for supply chain due diligence.
The Diamond 4 Cs
A diamond's value is predominantly determined by 4 factors, commonly known as the 4 Cs. These include colour, clarity, carat and cut. When purchasing diamond jewellery, it is important to understand why two diamonds that look the same to the naked eye may differ significantly in terms of value.
Before buying a diamond ring or jewellery, the following section will help you understand the 4 Cs in more detail: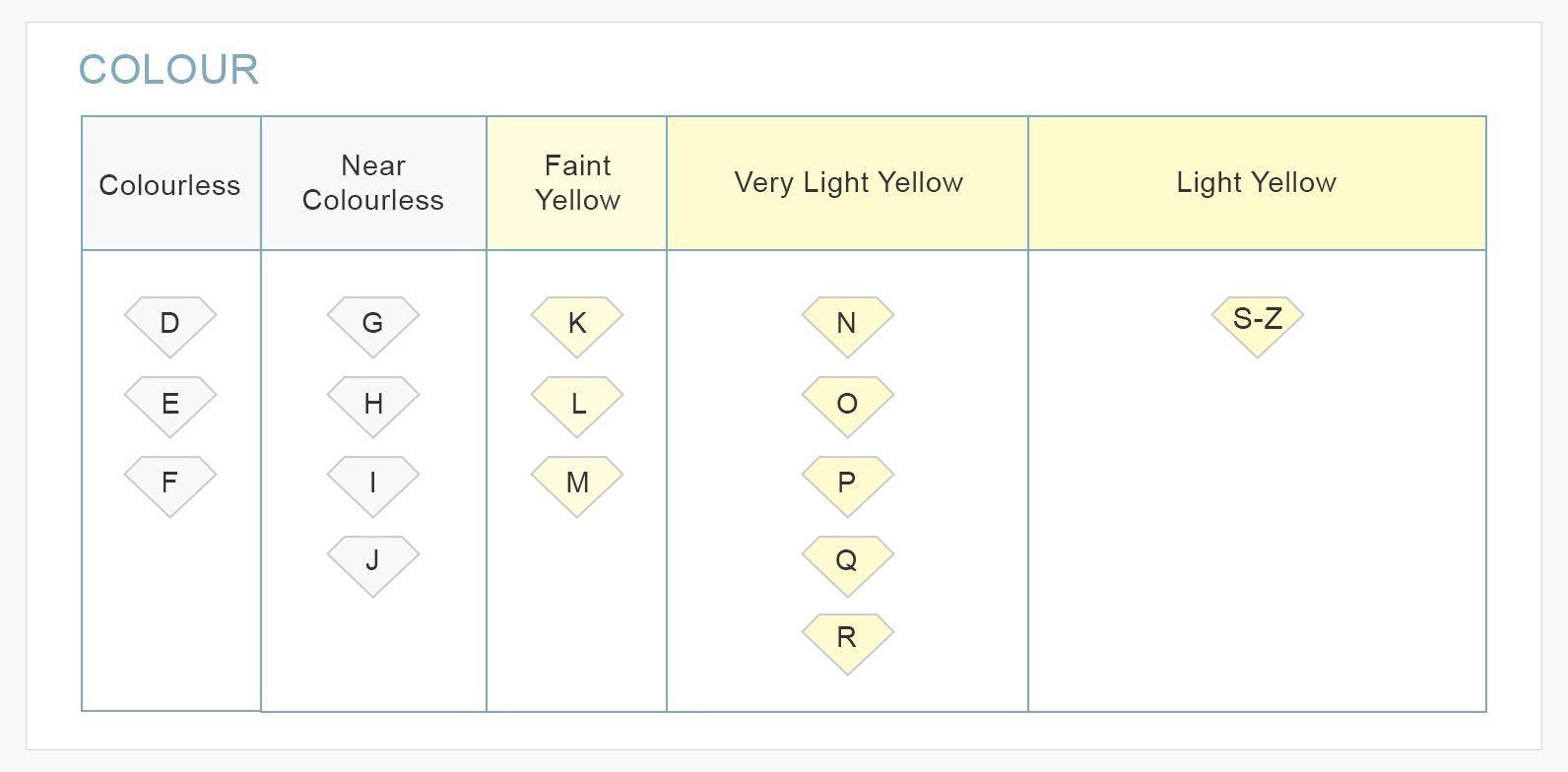 Diamond colour
Diamonds naturally vary in colour, with the majority on the market being sold as near colourless. At Ernest Jones, we use the GIA (Gemmological Institute of America) scale of colour. On this scale, diamond colour is graded from D, which has the least colour, through the alphabet to Z, which has a light yellow colour. Truly colourless diamonds (D) are treasured for their rarity.
At Ernest Jones, we have a wide range of coloured diamonds including black diamonds, which are natural diamonds that have been subjected to specialist treatments to enhance the depth of colour and contrast.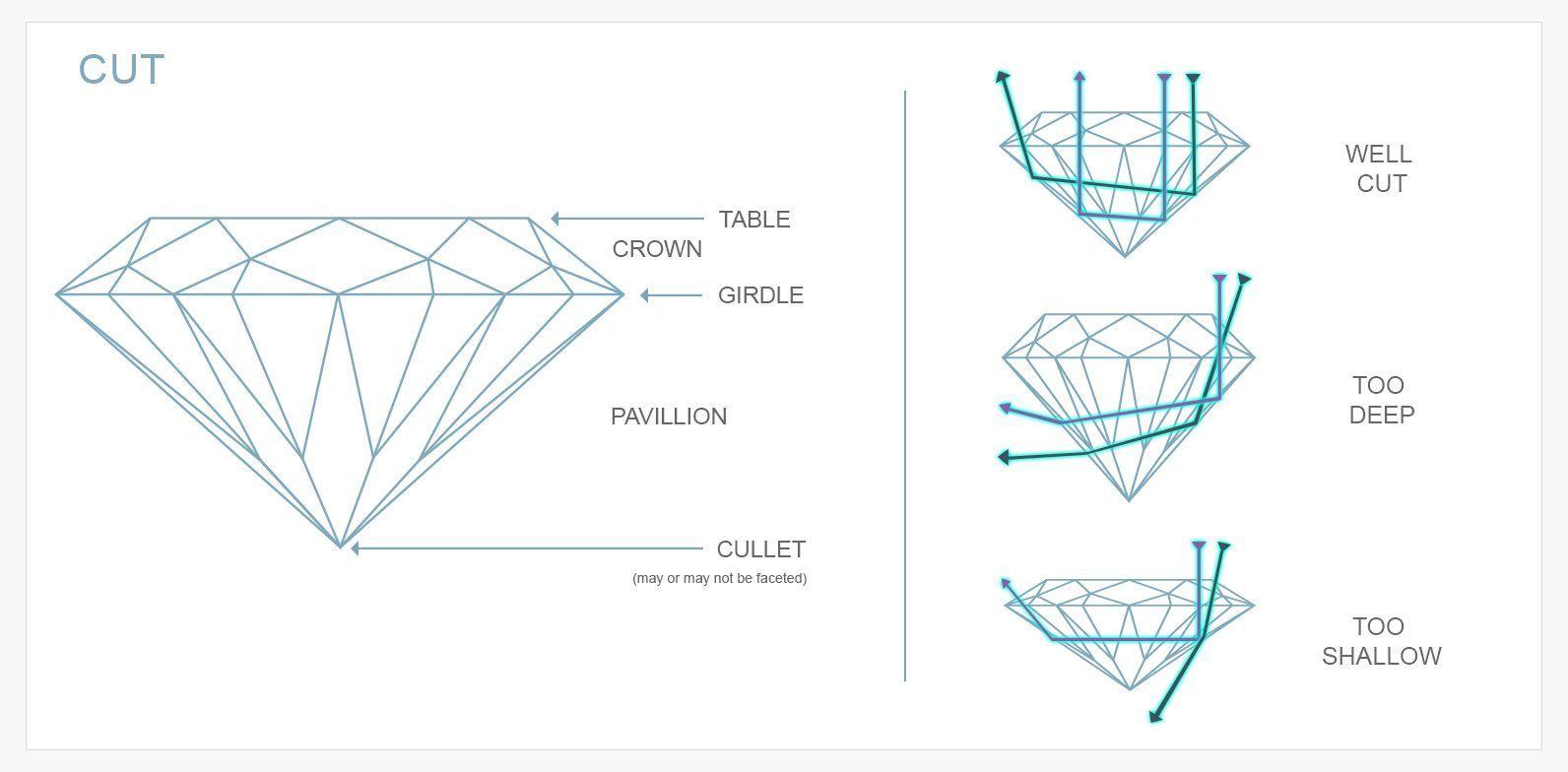 Diamond cut
The cut of a diamond refers to their proportion and finish and shouldn't be confused with the finishing shape of the diamond. Skilled craftsmen transform a rough diamond to a gleaming polished diamond by polishing tiny facets into the rough stone. Facets are the flat, polished surfaces on a diamond. Well cut and proportioned facets on a diamond will make good use of light, allowing it to be dispersed and reflected from one facet to another, releasing the diamond's brilliance. Symmetry, proportion and how the diamond is polished will all determine the quality of the cut.
Diamond carat
Diamonds are also graded by carat, which refers to the weight, rather than the size of the diamond. Carats are split into points, where 100 points are equal to one carat.
½ carat diamond – 50 point or 0.50 carat diamond
¼ carat diamond – 25 point or 0.25 carat diamond
When there is more than one diamond on a piece of jewellery such as on a diamond cluster ring or a three-stone pendant, the stones are weighed together rather than individually. The carat weight does not reflect the size of a diamond.
When buying diamond jewellery, the most appealing factor is likely to be the carat weight of a diamond. However, it is important to remember that the cut will also determine the value of a diamond.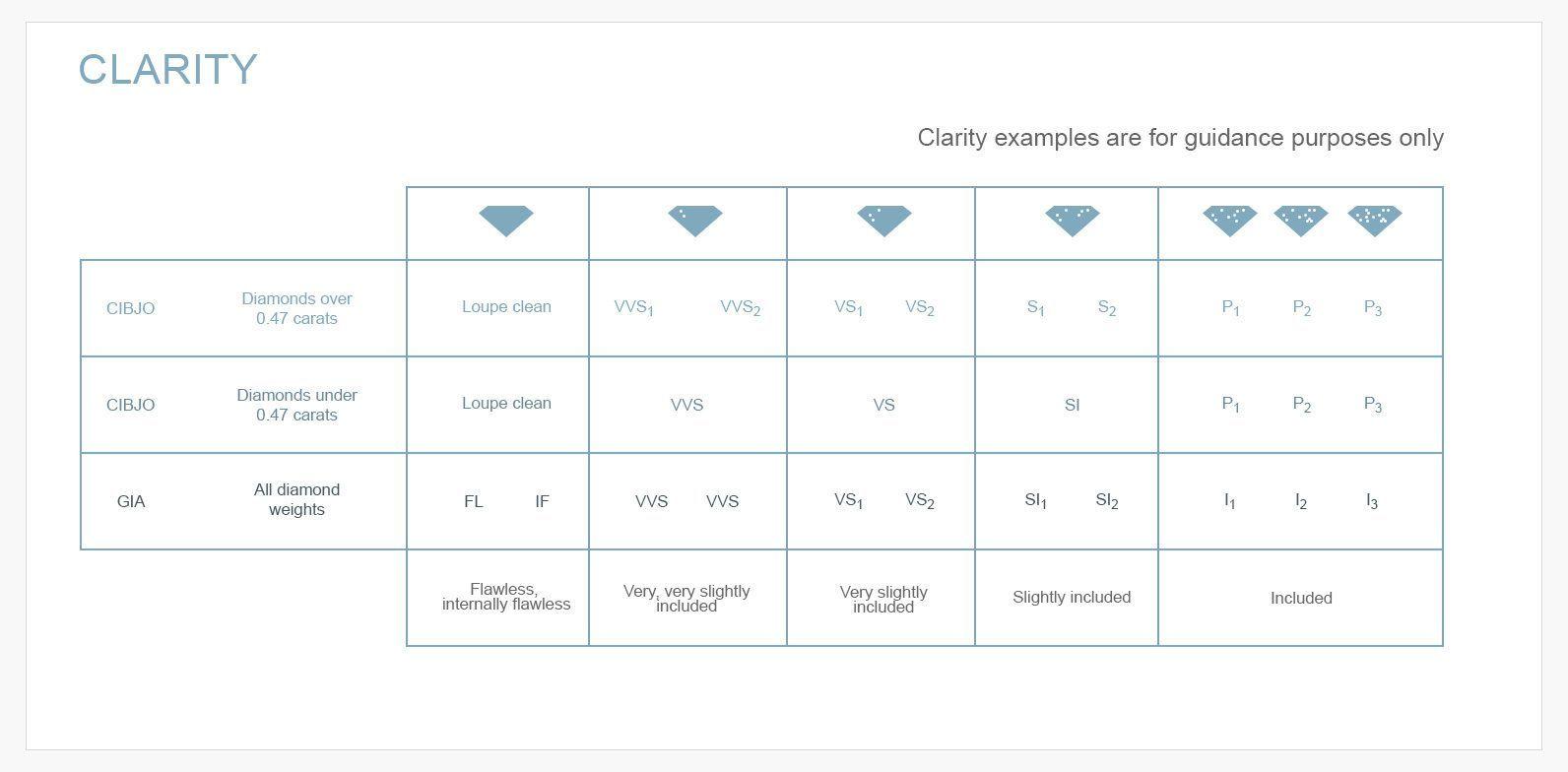 Diamond clarity
The clarity of a diamond refers to the inclusions of the diamond. Diamond inclusions are characteristics that occur inside the gemstone itself. It is fairly common for diamonds to have natural flaws – they are rarely perfect. Inclusions are also sometimes referred to as nature's 'fingerprints' or 'birthmarks'. Inclusions are ranked on the clarity scale, which means that the fewer inclusions a diamond has, then the greater the clarity. We use the International Grading Scale developed by CIBJO.
Diamond shapes
Cut is also commonly used to describe the shape of the diamond, however, the shape of a diamond refers to the outline or external figure of the diamond whereas the cut of a diamond refers to the facets, symmetry, dimensions and reflective qualities.
The most popular shape or cut is round brilliant cut, originally developed by Marcel Tolkowsky in 1919 with a total of 58 facets. There are, however, many other diamond shapes including princess cut, emerald cut, oval and baguette.
Build your diamond jewellery collection
Throughout history, diamonds have been the most highly valued of gemstones, worn and admired by royalty as a symbol of strength and status. Over the centuries, diamonds have also become the ultimate declaration of love in the form of engagement rings, eternity rings and contemporary wedding bands.
Diamonds possess a unique character, elegance and remain simply timeless, making them a great choice of gemstone for any piece of jewellery. Here at Ernest Jones, we have a wide collection of stunning and unique diamond jewellery, varying in colour, cuts and sizes, allowing you to create a fashion-forward statement, whatever your style.
How to choose diamond jewellery
Deciding what style your special someone would prefer can be difficult, but here are a couple of factors you may wish to consider:
What style?
Glamorous, vintage, minimalist or contemporary? An easy way to find out is to discreetly search through her current jewellery. If it is oversized and decorative then she may prefer one of our diamond halo cluster rings. If her jewellery is more refined and classic, she may prefer one of our diamond solitaires or three stone diamond rings.
What metal?
Perhaps take her past an Ernest Jones store to see which one she points to more or take note of what colour jewellery she currently wears.
Classic or unique?
With the rising trend of rose gold, perhaps a rose gold diamond engagement ring would make a great choice. Or if she is a lady who loves a dash of colour, perhaps she would fall in love with one of our coloured diamond engagement rings.
Keep it classic
Let's take a look at some of the different types of diamond jewellery…
Shop diamonds
At Ernest Jones, we offer a range of services to guarantee that you are confident with your diamond purchase. Your diamond is secured against any flaws in craftsmanship for 10 years. If you have a Diamond Privilege Card, we will give you a lifetime promise to clean and inspect your diamond engagement ring annually for free at any Ernest Jones store.
Shop instore
Want a more intimate and personal experience? Why not find your nearest Ernest Jones with our handy store locator and shop instore. Need advice on diamond jewellery? Book a one to one consultation with one of our experts. Our knowledgeable team will be able to assist with any purchases or answer any questions you may have.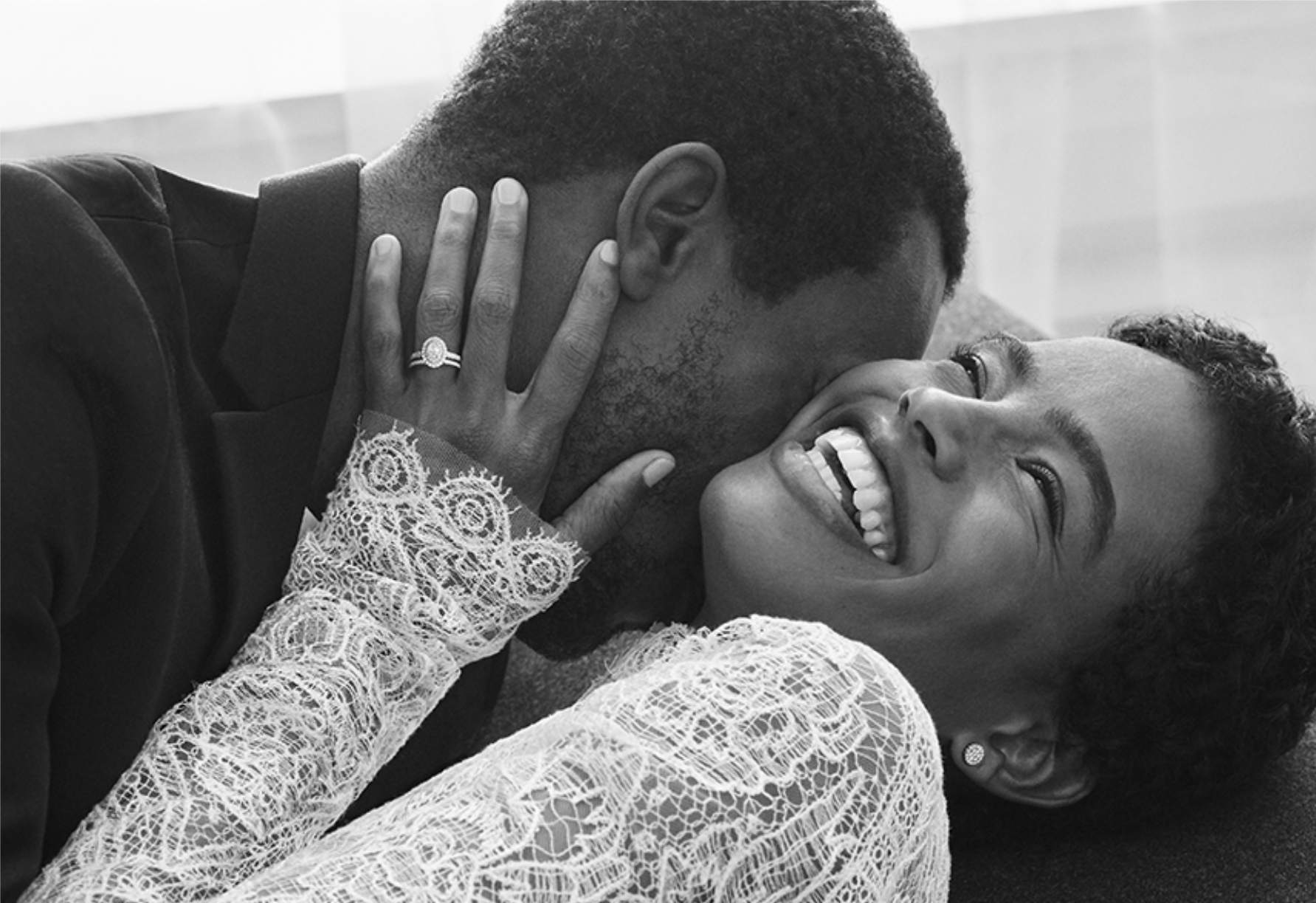 Shop diamonds with Ernest Jones
Want a more intimate and personal experience? Why not find your nearest Ernest Jones with our handy store locator and shop instore.
Need advice on diamond jewellery? Book a one to one consultation with one of our experts. Our knowledgeable team will be able to assist with any purchases or answer any questions you may have.
Ready to make that all important purchase? You can find everything you need here in the Ernest Jones online store.
Not sure exactly where to start? Head over to our diamonds page for a little inspiration.
Already know exactly what you want? Create your dream ring now using our "create your own" section. Start designing your own ring.
Interest-free credit
Got your eye on the perfect diamond piece but worried it may be a little out of budget? Why not consider finance on your dream jewellery? With 0% APR for up to 4 years, you can spread the cost over time and enjoy your jewellery immediately. Find out more on our finance page.