Engagement Rings Buyer's Guide
Shopping for an engagement ring is one of those rare, life-changing experiences, one that you will remember for years to come. Although you are almost certainly full of excitement at the prospect of choosing a ring, it's perfectly normal to have questions. That's where we come in. Our guide has everything you need to know to make your engagement ring buying experience the best it can be.
Want to learn more about the history and traditions of engagement rings? Head over to the be prepared section. Want to dive straight into engagement ring styles? Shop the style now. Maybe you want to learn about engagement ring stones and shapes or maybe you're looking for something a little different. If so, head over to the make it special section.
If you're ready to buy but have a few questions around costing, you can learn more about budgeting and finance over in our plan the perfect day section. Ready to pop the question? Explore the best ways to shop your dream engagement ring, whether that be online or instore.
Be prepared
When it comes to getting engaged, it may be the case that there is no time like the present. But that doesn't mean you should rush in when choosing an engagement ring, after all, 'fools rush in where others fear to tread'.
Here at Ernest Jones, we want to make sure you're prepared. We want you to walk away with a ring that the bride-to-be will love.
The traditions of engagement rings
The traditions of engagement rings Engagement rings are thought to date back thousands of years and, in today's day and age, they very much remain a key part of a bride's betrothal journey. Typically worn on the fourth finger of the left hand, engagement rings usually feature diamonds and sit alongside a complimentary wedding band come the big day. Although diamonds are traditional, recently there has been a strong interest in non-conventional stones such as emeralds and sapphires.
How to get her engagement ring size
If you've made the decision to pop the question, first off, congratulations! We hope the adventure you are about to begin brings you all the happiness we know you and your future bride deserve.
If this is the first ring you've bought your partner, it's important to know that size matters. Nothing will spoil the moment more than a ring that is too small and won't fit on her finger once she says I do.
If you need tips on finding your partner's size, check out our useful guide to secretly finding her ring size here. From using a piece of string, to asking their bestie for a tip-off, we have loads of ideas that should help you get that oh so important measurement.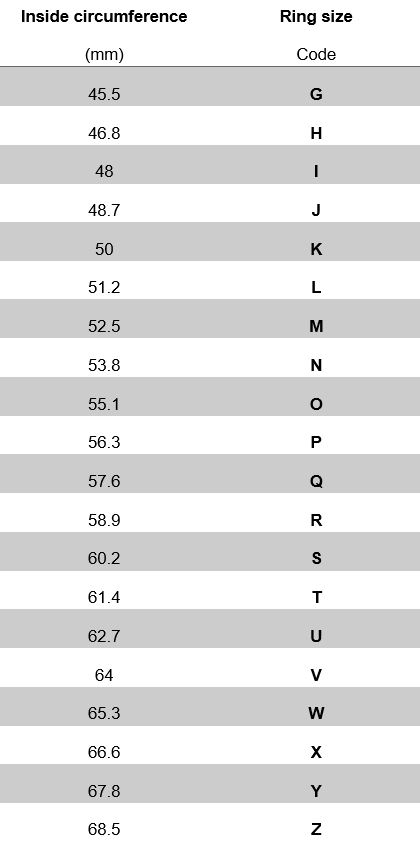 Engagement ring size chart
We pride ourselves on ensuring that your online shopping experience with Ernest Jones goes as smoothly as possible. Whether you're purchasing an engagement or wedding ring, a gift for a loved one, or simply a beautiful piece of jewellery for yourself, we understand how important it is that your ring fits correctly. And so, to help you purchase our jewellery confidently, we have several options to help you find the correct ring size.
The Ernest Jones specialist ring sizing service
The most accurate way to measure your fingers is to visit an Ernest Jones store. Here, one of our friendly, professional team will be happy to take your ring size using an industry standard sizer. It won't take more than a few minutes and you'll simply be asked to try on different sized metal rings until we find the size that fits you best.
Ring size conversion
To discover your ring size, simply measure the inside diameter of an existing fitting ring and check the measurement against our handy chart below. If you're still left unsure, we'll be more than happy to help in identifying your correct ring size at your nearest Ernest Jones store.
Most of our collection of ladies' rings are available in sizes I to S, and our men's rings in sizes P to Z. However if you require an alternative size our team can order this for you. Or, if you require the piece of jewellery more urgently, we may be able to resize the ring you have chosen. Unfortunately not every ring design is suitable for resizing, but our team will be able to advise you as to whether the jewellery you have chosen can be adjusted.
Shop the style
Got the ring size? Great. Let's discuss style. Here at Ernest Jones, we have several ring shapes and designs to choose from. So, whether you're looking for a specific diamond shape or a specific stone style, you're in the right place.
What are bridal sets?
A bridal set refers to a set of complementary wedding and engagement rings. Alone, the rings are stunning, but once the big day arrives and the two interlocking rings are reunited, you'll notice how your combined set is truly greater than sum of its luxury parts.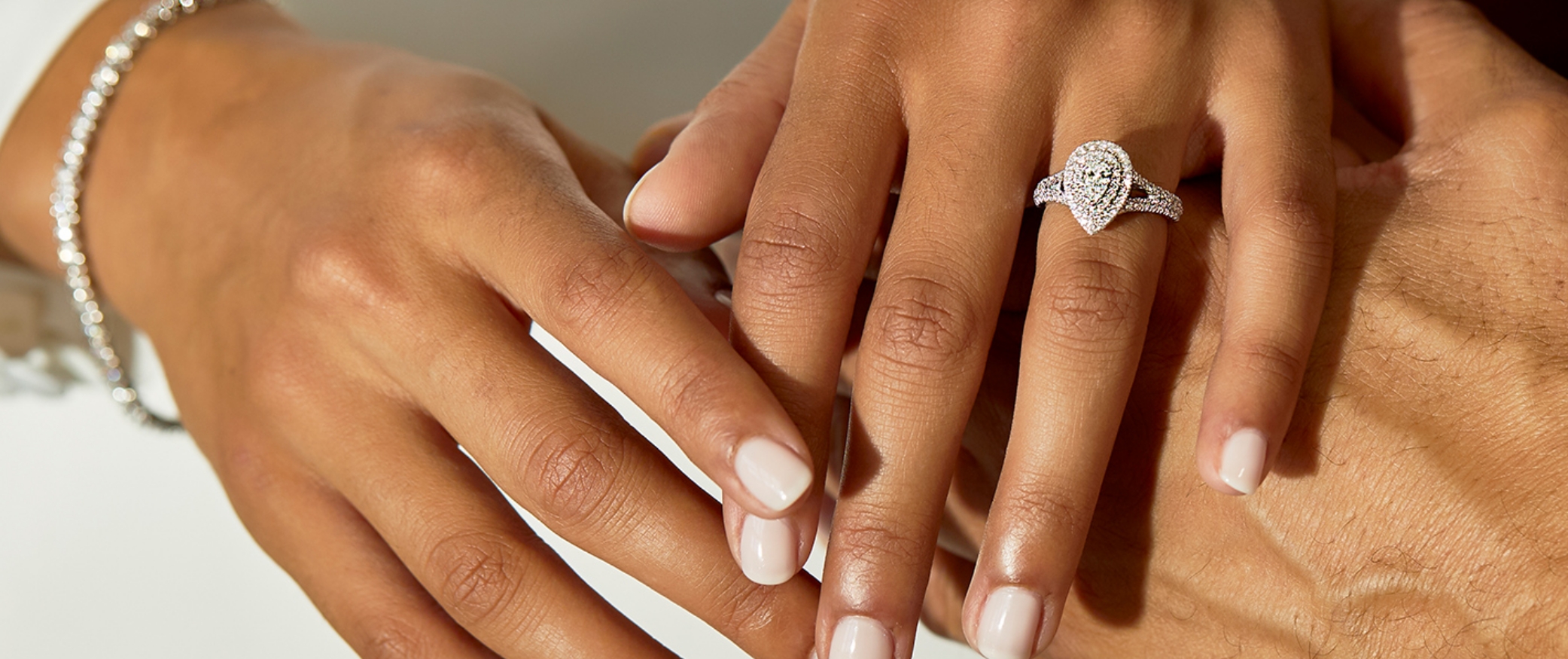 What are halo engagement rings?
A halo engagement ring is a ring where the setting encircles the chosen gemstone with a collection of smaller, round diamonds.
If your chosen feature stone is also diamond, it means you get that phenomenal sparkle when the ring catches the light.
What are solitaire engagement rings?
Solitaire engagement rings are one of the most popular styles out there. Again, they typically feature a signature diamond in a luxury setting. This can often take the appearance of a larger gemstone sat upon a band of smaller stones. If your ring features a large diamond on a diamond setting, you really will get that jaw-dropping sparkle.
Make it special
Nothing says luxury quite like diamonds, which is one of the reasons why they are such a popular choice when popping the question. Diamonds have historically been used for engagement rings because of their luxury quality and intrinsic value. Give the gift of diamond sparkle as part of your engagement proposal and you are sure to see that magical glint in her eye.
Diamonds by shape
Do you have your heart set on diamonds? Use our diamond shape chart to ensure you make the most informed decision possible. From brilliant round to princess diamonds, there are so many incredible options to choose from.
Something a little different…
Looking to pop the question to your loved one but not quite sure which engagement ring to get? If your special someone has a unique style and isn't fussed about diamonds, there's a whole range of alternative engagement ring stones.
Here is your ultimate guide to diamond alternatives for engagement rings to help make your decision that little bit easier.
The Perfect Day
If you're ready to pop the question, you've most probably got the thoughts of price tags wandering around your mind. How much should an engagement ring cost? How expensive are 'expensive' engagement rings? How much should I spend? The questions are endless!
Consider your budget
As tradition goes, it's said that you should spend three months' salary on an engagement ring for your loved one – after all, they'll be wearing that ring for the rest of their life. The amount of this can vary significantly between jobs and how much people earn, but as times have changed, some people now suggest spending one month's salary on the ring.
Some people like to stay fairly traditional and stand by the three-month salary rule, but other couples are prepared to spend less to put the extra money towards the wedding itself – a sensible approach, some would say, due to the amount of money weddings can cost too.
Forget the so-called 'rules' of how much you should pay – go with what you feel is right. Many people say that they wouldn't want their partner to spend an extravagant amount of money on a ring anyway. As mentioned earlier, that extra money can be spent on the wedding itself, and they'll be over the moon with even being asked the big question.
The amount spent on an engagement ring is 100% the choice of the person buying it, and no one else should have an input (unless you're choosing the ring together).
Consider finance
Perhaps the ring of your dreams is ever so slightly out of budget? If so, have you considered finance? Finance can be a great way to spread the cost of your ring without breaking the bank. Want to learn more about our finance offers? Head over to our payment and finance page now.
Pop the question...
Now you are fully equipped with all the information you could ever need for engagement ring shopping, it's time to take the plunge and buy the ring of her dreams. Go on, take the final step before popping the question.
Shop engagement rings in store
Looking to make your purchase in-store? You can find your nearest Ernest Jones using our handy store locator. Simply enter your postcode, town, or region and let us do the rest. Once you've found your store, simply head on in and we'll be happy to assist you with any questions.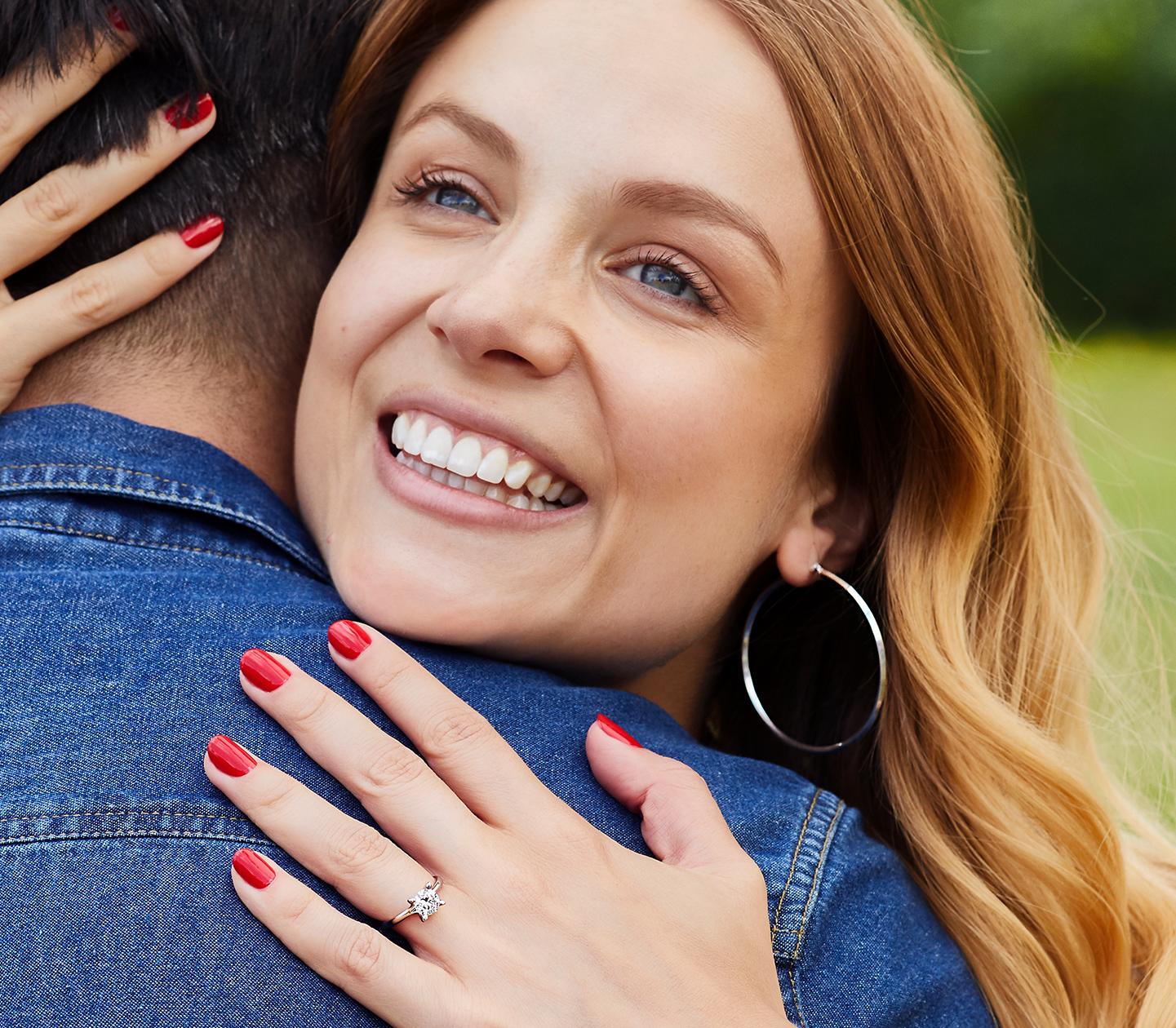 Book an appointment
Looking for more of a personal touch? Or do you have loads of questions you would like answering face to face? Then, why not book an appointment with one of our expert team.
Shop online
Have you made your decision, or would you like to explore our stunning range of engagement rings further? Explore the online store now.