Wedding Ring Buyer's Guide
Your wedding day is probably going to be one of the biggest days of your life so it's important to put a lot of thinking and planning into getting everything perfect, including your wedding ring. The ring you choose will sit on your finger for the rest of your life, so we've put this together this wedding ring buyer's guide to help you make sure you choose the right one. If you're wanting to decide on budgeting for your wedding rings, then our prepare for the big day section is where you need to be. Wanting to make sure you get the right size? Head over to our get the size section. If you're weighing up your options of different styles of wedding rings, we want to make sure you get the style that's right for you. Not sure what stone to go for? Jump to our get the rock part which may help you make your decision. And finally, when you're ready to go ahead and purchase your wedding ring, our say I do section will lead you to where you need to be.
Prepare for the big day
Decide your wedding ring budget
How much you spend on your wedding rings is entirely up to you and something yourself and your partner should discuss before looking for the perfect rings. Setting yourself a budget will give you a clear price range to aim for and will give you a realistic view of what is affordable to you. Once you have set your budget you can explore our range of wedding rings within the price range you've set and find the perfect rings for you both.
Consider wedding ring finance
When buying a wedding ring from Ernest Jones you don't necessarily have to pay out the full cost all in one go – we know this is a time in your life where there's a lot to pay out so we'd like to help where we can. We offer interest-free credit for up to three years which is perfect if you are on a budget or looking to spread the cost over a manageable time frame.
Please note this is subject to credit status.

Save the date
Choosing a wedding date will be one of the most important things you do in your wedding planning process as it will impact every aspect of your wedding day. You'll probably go for different colour schemes depending on the season, as well as dress styles, the venue… the list could go on and on. Wedding season here in the UK is traditionally thought of as running from late May to September as this is when we get the best weather. However, weddings can be all year round and it utterly depends on what you and your partner want. Whether it's a summer wedding with beautiful floral backgrounds, or a winter wedding with the hope of some snow, it's up to you.
Get the size
You wouldn't choose a wedding dress that didn't fit, or a suit that was too tight – so don't ignore the one item you'll continue wearing well after the day itself. Getting the right size wedding ring is crucial, so here's how to find the perfect fit.
How to measure your wedding ring size
Measuring your wedding ring size can be done easily at home, or in one of our stores.
To measure from the comfort of your own home follow these simple steps:
Wrap a tape measure around your ring finger (third finger on your left hand) and hold the point where the end meets. If you don't have a tape measure to hand, use a piece of string and measure the finger circumference against a ruler.
Make a note of the circumference (in millimetres) and use the wedding ring size chart below to find your size
If you're a little unsure or you don't trust yourself to get it right, help is always at hand. Book an in-store appointment or call into your local Ernest Jones branch, where our advisors will be more than happy to help you get the perfect fit.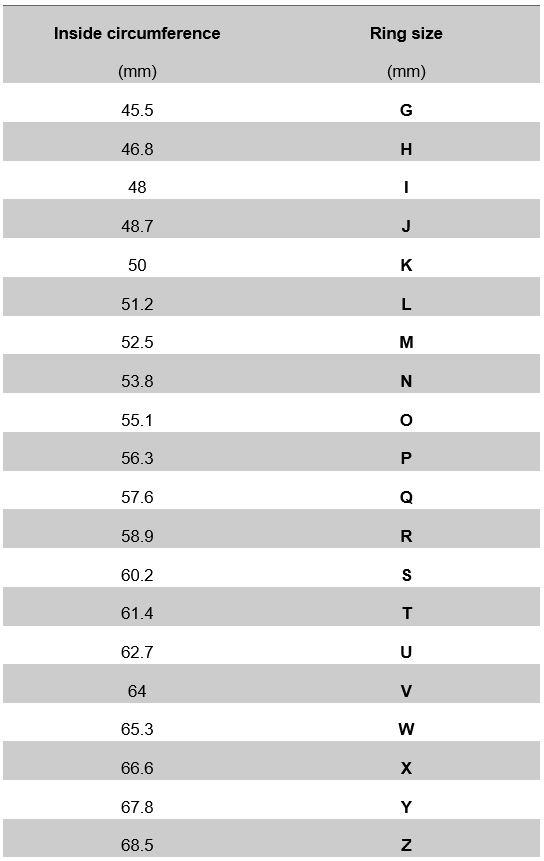 Find your partners wedding ring size
You most likely already know your partner's ring size from buying an engagement ring, and if you didn't get it right then, it was probably re-sized in store to be a perfect fit.
Traditionally, as a couple you choose your wedding rings together anyway, so this isn't something you necessarily have to do discreetly this time around.
If you're measuring at home, sit down together and follow the steps listed above, or if you'd rather one of our experts do it for you, simply visit your local Ernest Jones store where a member of our team will be happy to help.
Wedding ring sizing chart
Once you've measured the circumference of both your fingers, simply use the below size guide to calculate your ring size.
Please note that you can also get a wedding ring in a half size if your finger circumference happens to be between two.
Get the style
The style of your wedding ring becomes an aesthetic consideration when looking into different styles, shapes and designs of the outside band. The most important thing is to get something that you find comfortable and visually appealing. Finding a complementary style that works for your partner's needs is also a key consideration. Whether you prefer modern, classic or vintage-inspired looks, there will be a perfect wedding ring out there for you. Let's look at some of the most popular styles below.
Court wedding rings
Court wedding rings are a classic style that is rounded both on the inside and outside of the ring. It can be argued that court wedding rings are one of the most popular styles due to the comfort and ease of taking them on and off. Court wedding rings create a comfortable fit no matter the width of the ring you choose.
Multi-stone wedding rings
Multi-stone wedding rings are exactly what they sound like – rings with several stones. They offer a beautiful and stylish look and come in a variety of shapes to suit your preferences, and also your engagement ring. Multi-stone wedding rings give a luxury feel and are certain to be treasured.
Shaped wedding rings
There are two traditional shaped wedding rings which continue to be popular – court shaped like mentioned above, and D shaped. The former is rounded both on the inside and outside of the ring, whereas the latter has a flatter inside (so named because the shape of the cross-section looks like a capital D). Alternatives are flat court (an inverted D shape) and flat shaped (flat on both the inside and outside. The key here is to opt for comfort, as it has little impact on the appearance.
Another popular option is to have a wishbone-shaped wedding ring that fits around a ring with a stone (e.g. a traditional engagement ring) due to the small kink in the band. Another way to incorporate an engagement ring is to have either a stacked or wraparound style.
In Scandinavian countries it is popular to have a ring for engagement, one for marriage and one for motherhood. This has perhaps led to the recent trend of stacking three or more rings rather than opting for the traditional set of two.
Stacked rings can include different stones and metals, allowing for increased versatility and a unique look. Wraparound style rings allow for another ring to be inserted into a space in the wedding band, fully incorporating the differ
Recent trends have seen increased popularity of uniquely shaped rings – particularly nature or ocean-inspired – and crossover styles. Perhaps influenced by Megan Markle's wedding ring, slim, delicate wedding bands have also increased in popularity over recent months, with many couples opting for a subtle departure from the traditional broad wedding band.
Why choose diamond?
Diamonds are traditionally the most popular stone when it comes to wedding rings and they look beautiful so we can see why. We all know the saying 'diamonds are forever' so this is exactly what the stone symbolises – your love and marriage that will last forever.
Diamond wedding rings are timeless and add a sparkle to your finger, especially if your engagement ring is subtle. It's a great option if you want to add extra shine and make the two rings stand out together.
Birthstone wedding rings
Birthstone wedding rings are becoming increasingly popular and a great way to show individuality. Birthstones are gemstones associated with a month of the year – if you're wanting a wedding ring that corresponds with your birth month, find yours from the list below:
Diamond wedding rings are timeless and add a sparkle to your finger, especially if your engagement ring is subtle. It's a great option if you want to add extra shine and make the two rings stand out together.
January – Garnet
February – Amethyst
March – Aquamarine
April – Diamond
May – Emerald
June – Pearl or Alexandrite
July – Ruby
August – Peridot
September - Sapphire
October – Tourmaline or Opal
November – Topaz or Citrine
December - Tanzanite, Zircon or Turquoise
Try something a little different
If you're looking for a different wedding ring and want to stay away from diamonds, there are many alternatives you can choose from. Diamond alternatives are becoming increasingly sought after, and with such stunning colours and cuts of unique stones, we can see why.
Instead of a diamond wedding ring, you could choose a beautiful freshwater pearl wedding ring for something a little bit different that offers a classic look. You could also go for an onyx wedding ring that offers bold sophistication, or a sapphire ring for a uniquely opulent look.
Say I do
Shop wedding rings in store
Explore the gorgeous range of wedding rings in your local Ernest Jones store where one of our friendly advisors will be able to help you find the perfect one. Unsure where to find your nearest store? Simply use our handy store locator.
Book an appointment
If you're considering a purchase but you would like a bit more information around what you want, book an appointment either online or over the phone to get expert advice from our team.
Buy wedding rings online
Have you got your heart set on a specific wedding? Perhaps you know the exact style you want, and you are ready to make the purchase today? If so, explore wedding rings with Ernest Jones now.