Celebrating 35 Years of Toughness - Casio G-Shock Mudmaster
Celebrating 35 years since the iconic G-Shock watch was invented, Casio has released the limited edition all black Mudmaster. The GG-1035A-1 is the most premium of the 35th Anniversary editions with featuring "Twin Sensors" Compass and Thermometer, providing a tactical timepiece to any avid watch collector.
35 Years of Toughness - The new limited edition All-Black Mudmaster - Exclusively at Ernest Jones
2018 marks 35 years since Kukuo IBE invented the iconic G-Shock, creating one of the strongest timepieces on the market today. Born at a time when watches were generally considered fragile instruments, G-SHOCK began as the dream of a young engineer, who wanted to create "a watch that doesn't break, even when dropped." That engineer was Kikuo IBE, Casio's head of watch design at the time. G-SHOCK has followed a path of unique evolution ever since 1983, while continuing to retain this basic inherited structure.

Today, the G-Shock can easily withstand the following:

• A drop from a three storey building (over 10 metres in height)
• Is 200 metres water resistant, perfect for swimming, non-professional diving and snorkelling
• Vibration proof – Ideal for use with heavy machinery or power tools
• Resistant to magnetism – Resists damage caused by magnetic fields
• Low Temperature Resistant - Can be frozen into a solid block of ice and still function perfectly


Mudmaster
The new Mudmaster model is constructed to resist mud, dust and vibrations in tough environments from deserts and marsh land to construction sites.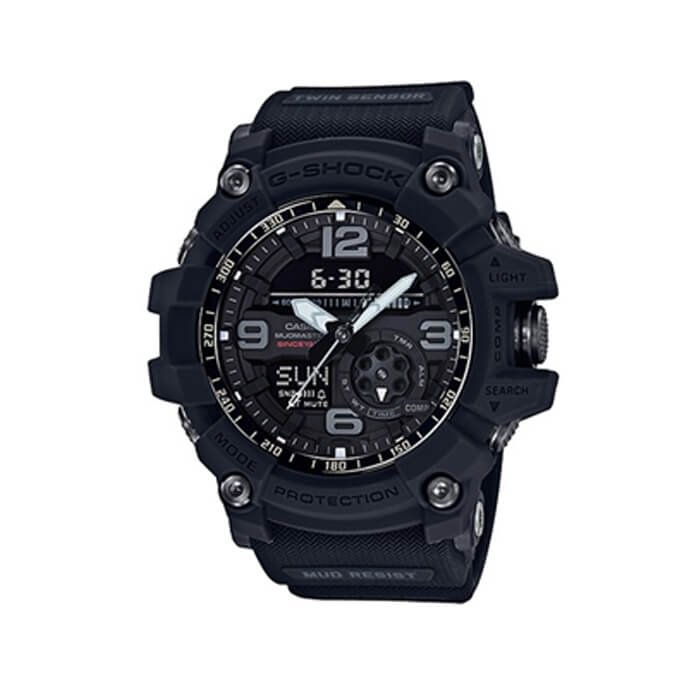 Built for maximum durability and functionality, a Dual Sensor which provides accurate Digital Compass and Thermometer readings for essential assessment of the surrounding environment. Multiple gaskets are used on pipes that guide buttons from impact. Screw-In crown on the internal gasket further increases mud resistance.
Limited Edition - Exclusive to Ernest Jones
The limited edition Mudmaster features an all-black matte design.
If you liked the Mudmaster and would like to see our full range, view all of our G-Shock Watches here.