Bremont Watches Buying Guide
Whether you are looking to dig deeper into the Bremont brand or need some help narrowing down which unique design is right for you or your loved one, we are here to help. Here you'll find information about Bremont's impeccable British craftsmanship and industry-leading testing, as well as insight into where the passion for creating some of the world's most stylish and robust watches comes from.
Bremont, the brand
"Our whole remit was to create a classic looking aviation timepiece that was highly versatile and eminently usable, something that was as at home in the boardroom as it was up Mount Everest." - Giles English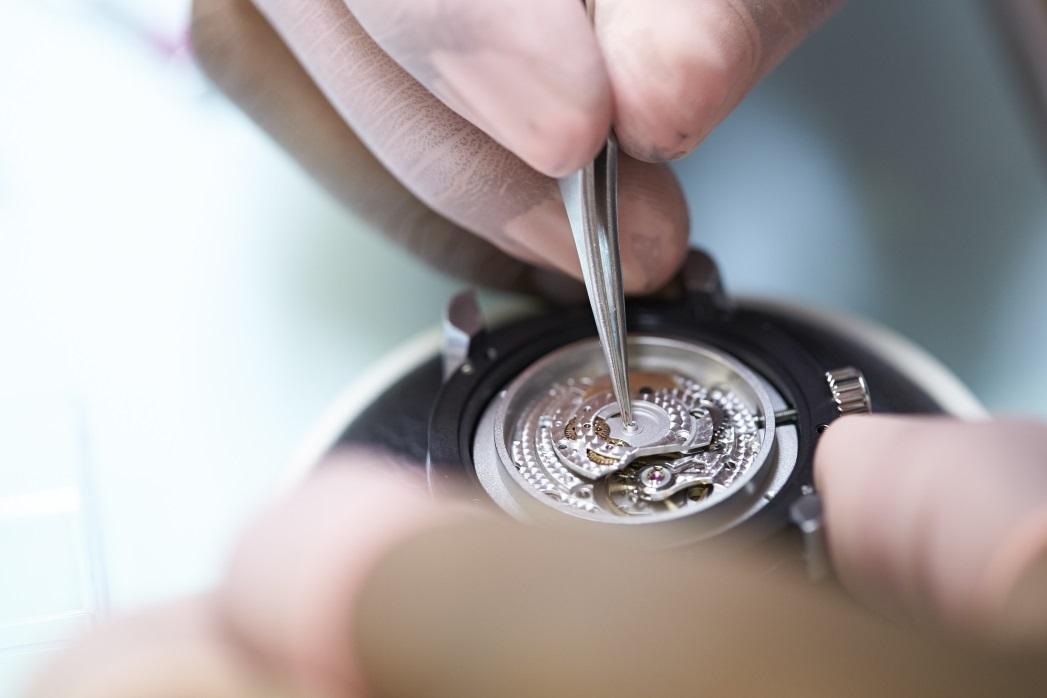 British engineering
Bremont creates British engineered, chronometer-tested mechanical watches that are as precise and durable as they are stylish. Seeing a gap in the market for a watch that was the middle ground between a dress watch and a sports watch, brothers Nick and Giles English founded Bremont in 2002 to manufacture aviation watches of the highest quality here in Britain.
Their sought after designs not only ooze the timeless sophistication that British brands do so effortlessly, but are highly durable with cases that are, on average, seven times harder and more scratch-resistant than those of competitors. With a legion of fans that ranges from serious adventurers to world record breakers, Hollywood stars and even royals, it's easy to see why Bremont has taken the watch market by storm.
Award-winning British manufacturing
"If in just one sentence if I had to describe what Bremont stands for, it would be reinvigorating watchmaking and precision engineering on British shores." Nick English
The Bremont way
Inspired by conversations about Britain's rich history in horology with their late father, former RAF pilot and Aeronautical Engineer, Dr Euan English, Nick and Giles were determined to restore the long-lost art of watchmaking on British soil. However, they knew that if they wanted to manufacture watches in Britain that rivalled the quality of the leading Swiss brands, Bremont had to be about quality and not quantity. That's why to this day all Bremont watches are exquisitely designed and meticulously hand-built in small numbers.
Combining that classic, timeless style of a pilot's watch with technical innovation and an almost obsessive attention to detail, Bremont's commitment to quality was evident right from the beginning. Before ever releasing a product, Bremont spent five years in research and development, receiving expert tutelage from leading engineers in Britain and Switzerland, sourcing exceptional British talent with transferable skills and working tirelessly to develop high-end and incredibly robust components that were tested beyond the usual call of duty.
At its heart, Bremont will always be a hardcore engineering company and the English brothers and their incredible team of engineers continue to push the boundaries of what is possible. Giles explains "We will never think 'ok, we've done it'. Every year we push the boundaries a little further in terms of innovation, whether it be casing components in vibration mounts, designing a new steel that is tougher, or doing crystal hardening so when you knock them it doesn't leave a mark, it's that attention to detail that has become a very important part of our DNA." In other words, Bremont's work is innovation in its purest form.
Tested beyond endurance
"We set out to make watches that are just as at home in the boardroom as they are on an explorer's wrist at the South Pole, up Everest, or in the depths of the oceans. That adventure element is in Bremont's DNA." – Giles English
Not just a strapline, 'tested beyond endurance' epitomises the Bremont mentality. Not only are all Bremont products subjected to rigorous lab testing, including extreme temperature, vibration and altitude testing, but designs like the Martin-Baker are also put through live ejection testing to test the watch under extreme G-forces. Never ones to do anything by half, Bremont's products are also tested in some of the harshest conditions on earth by their brand ambassadors.
Bremont ambassadors include the likes of Ross Edgley who was the first person to swim around Great Britain, as well as multiple world record breaker Nims, big wave surfer Mark Healey, adventurer Aldo Kane and England Rugby ace Tom Curry.
The Bremont Chronometer Collections
All Bremont watches in the core collection are chronometer tested, then subjected to further rigorous testing and quality control procedures. They all also feature Bremont's signature Trip-Tick® case construction and are engineered and hand finished with state-of-the-art technology and only the very highest quality materials.
Each watch in the core collection is committed to being 99.998% accurate, comes with a 3-year warranty and is accompanied by a COSC performance certificate which confirms that the mechanical movement has passed extensive precision tests.
Explore the stunning collection of Bremont watches at Ernest Jones:

Bremont ALT1
The ALT1 collection was originally released in 2007 and remains a best seller for good reason. A triumph of sophisticated style and technical innovation, the ALT1 is available in a range of designs but they are all multi-functional timepieces of exceptional quality.
Explore the stunning range below: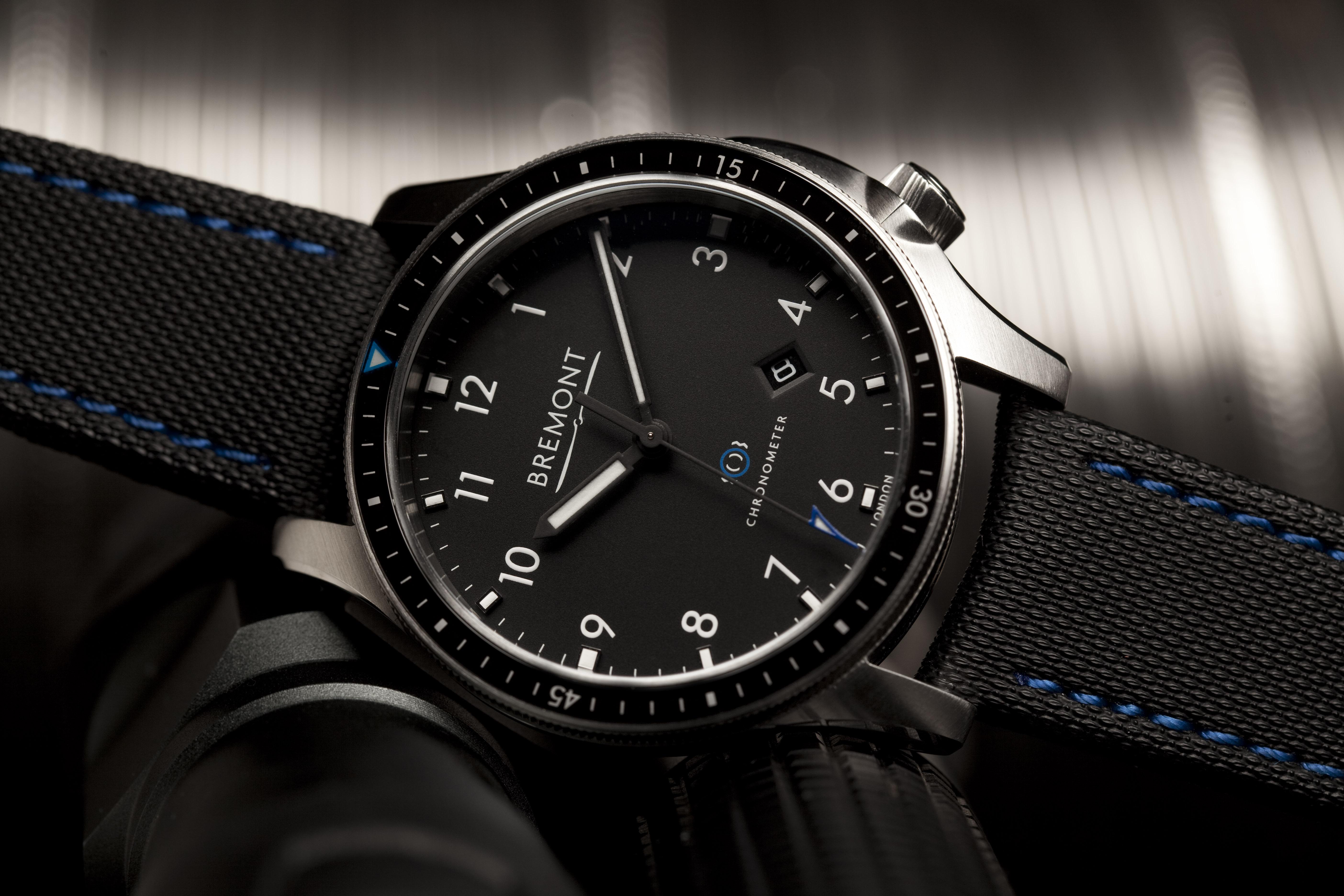 Bremont Boeing
The Boeing 247 range is crafted from custom stainless-steel and features a striking chronograph dial and two sub-dials, and the Boeing Model 1 is crafted from aviation-grade Titanium with a single, classic dial. With a 43mm face in a choice of grey, white or black, as well as modern black Seattle straps with contrast stitching, the Bremont Boeing range is the perfect combination of innovation and that understated, classic Bremont style.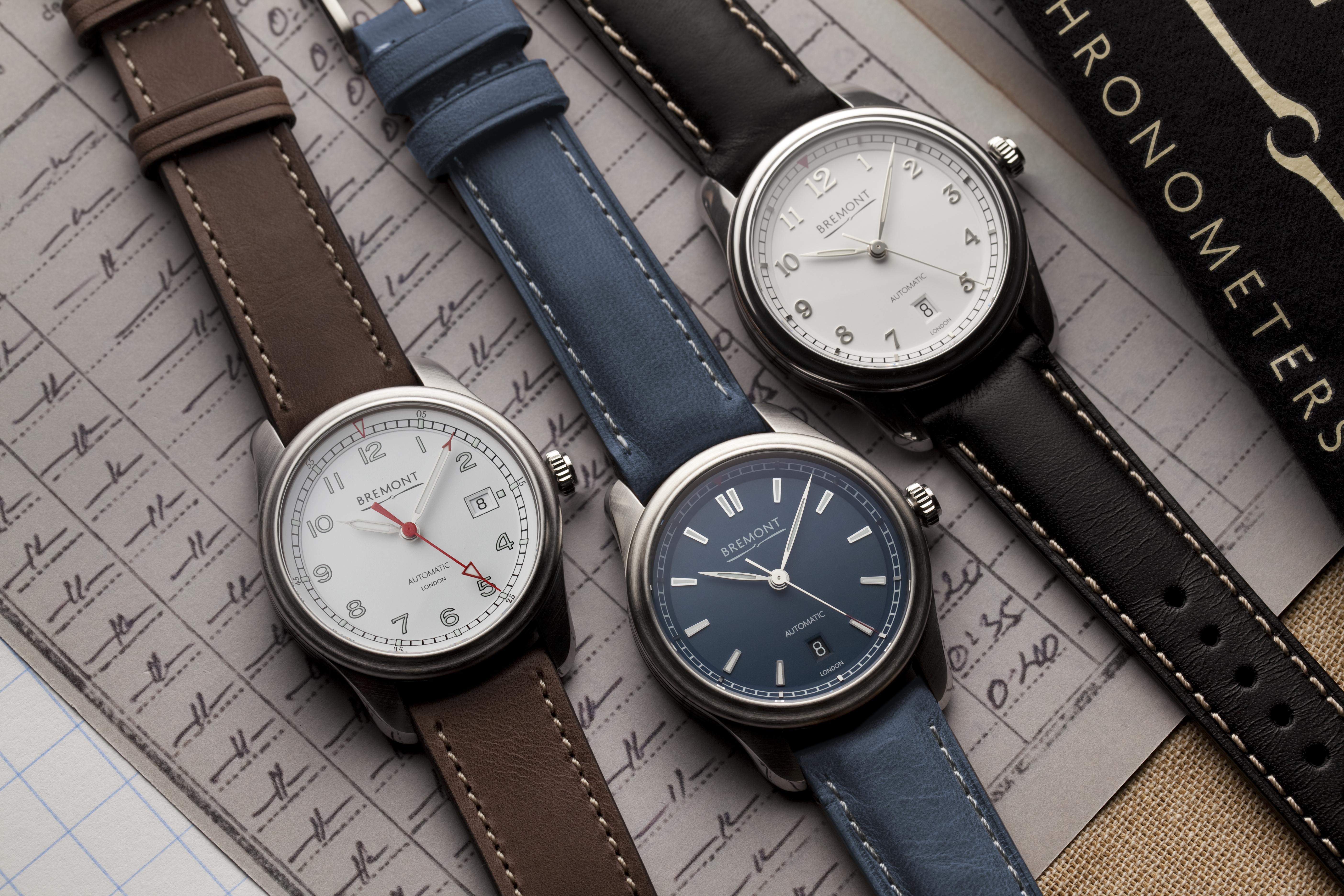 Bremont AIRCO
A true Bremont icon, the AIRCO collection pays homage to one of the first British military aircraft manufacturers – The Aircraft Manufacturing Company Limited. With a 40mm case and a reduced case height, the AIRCO is the smaller, thinner and more streamlined collection, making it a great option for someone looking for a more vintage feel. Available with a white, black or blue face and stylish leather straps, this collection is testament to Bremont's promise of technical innovation, precision and durability.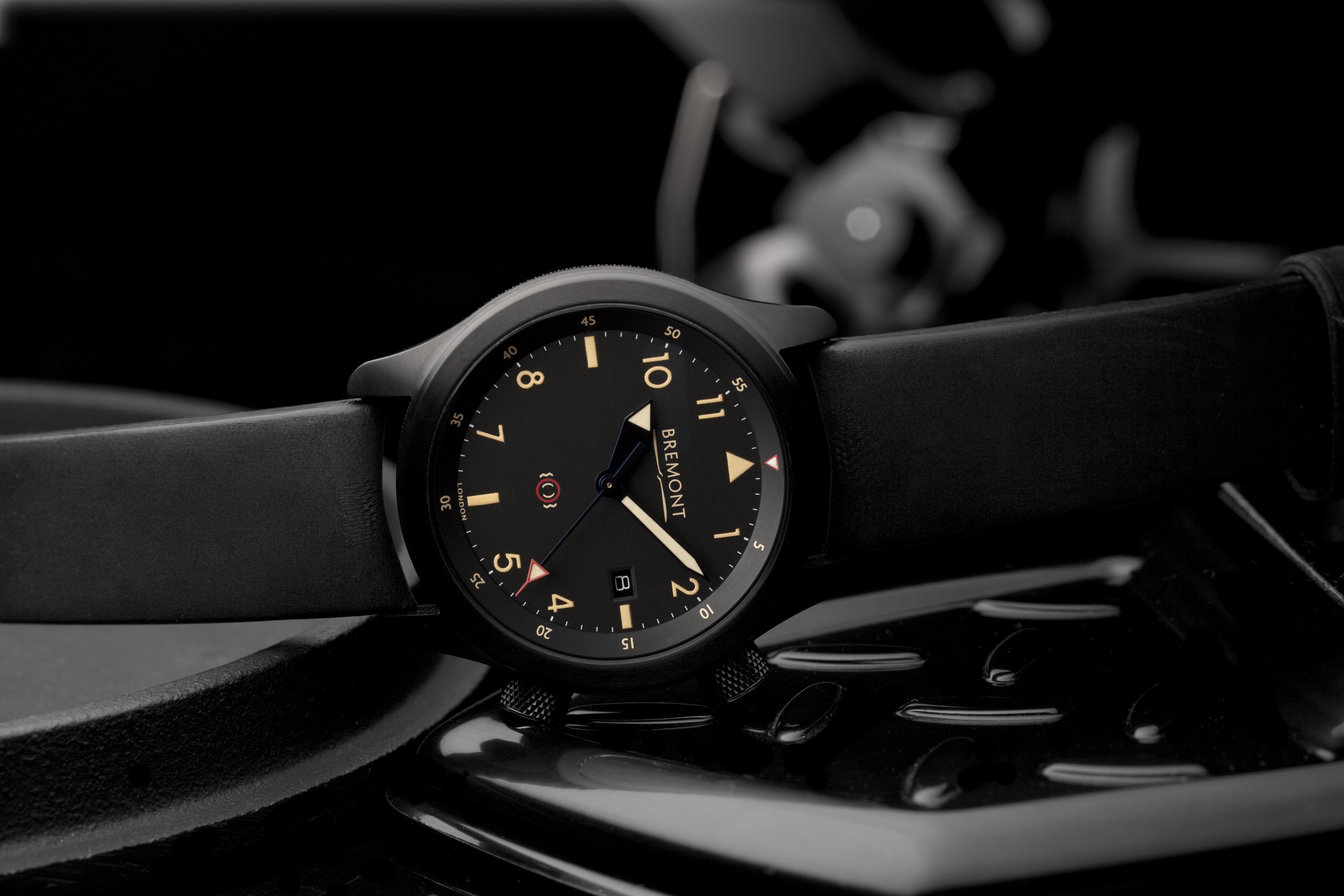 Bremont U-2
A real, modern powerhouse of an aviator's watch, the Bremont U-2 watch collection was designed exclusively for the elite Spy Plane Squadron based in California. Trialled extensively on missions, at 100,000ft and in the lab at -50 °C, this collection has been tested far beyond the usual call of duty. With a 43mm case in blue or black and the option of a semi-skeletonised caseback, these highly resilient, undeniably stylish certified chronometers are serious bits of kit.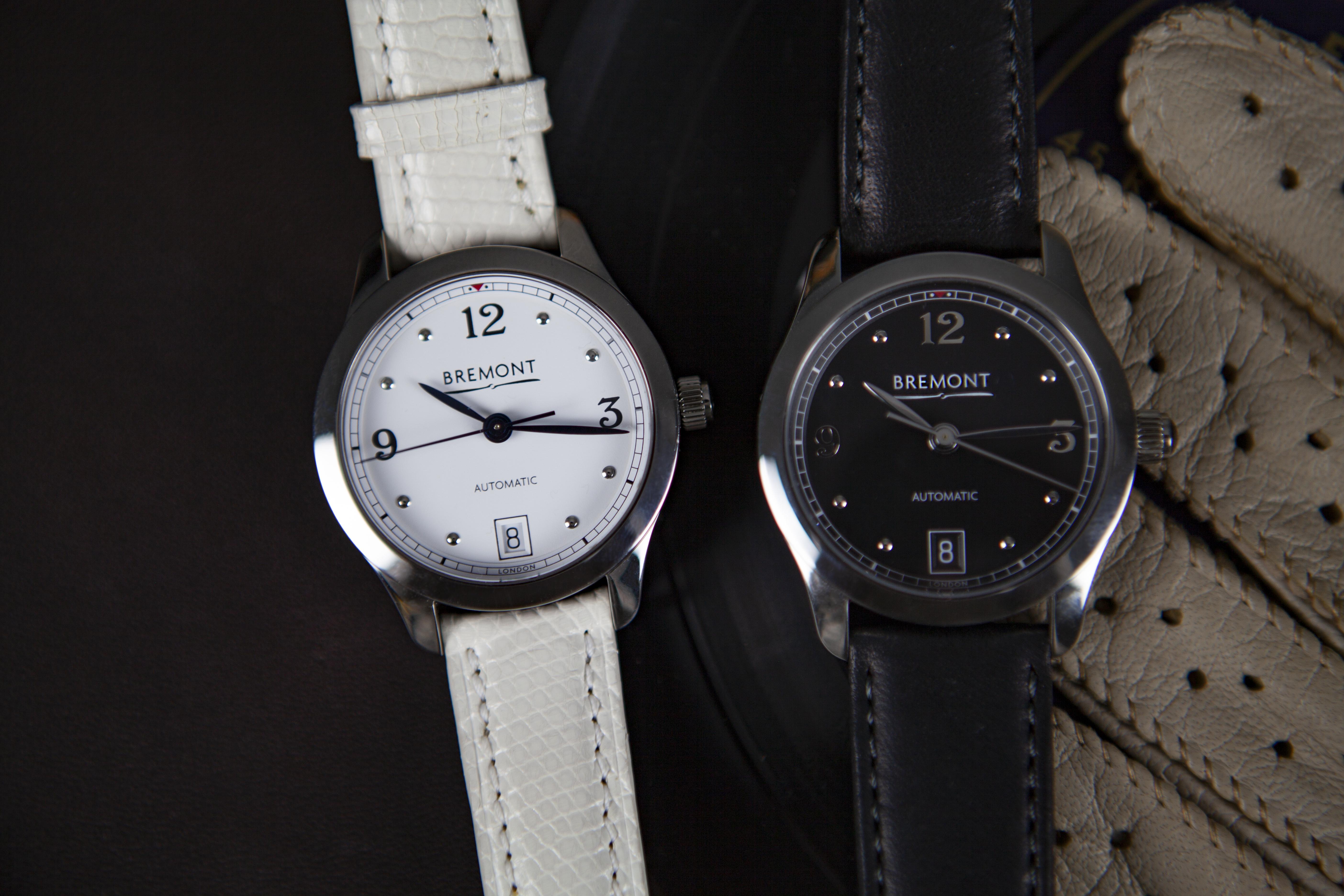 Bremont SOLO
The Bremont SOLO watch collection is inspired by aviation watches of the 1940's, making it the perfect choice for someone who is looking for a modern twist on a traditional pilot's watch. Being a traditional aviator style, legibility plays a key role in the design and the collection features larger, bolder numerals. These timeless chronometers are a favourite amongst lovers of traditional mechanical watches.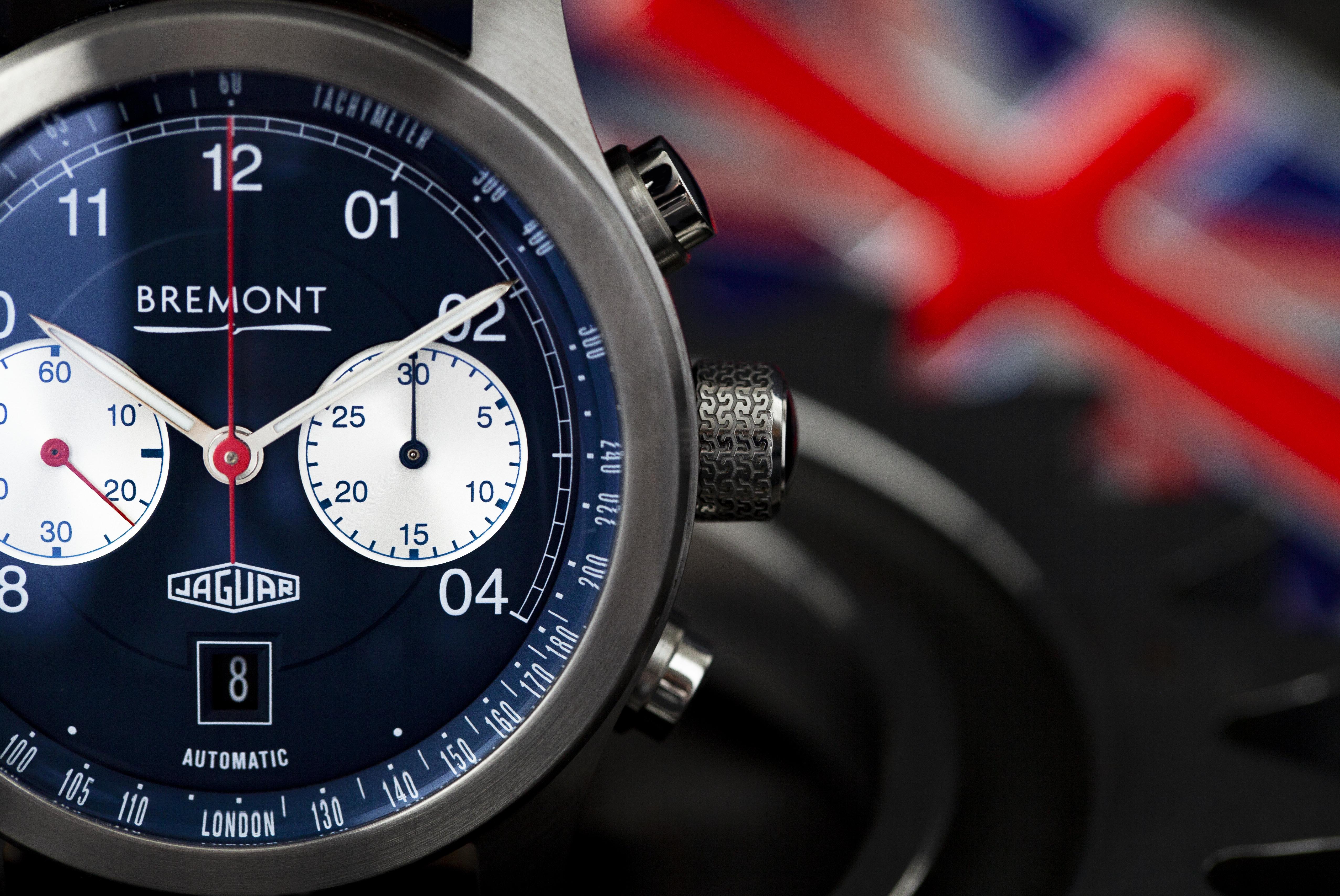 Bremont Jaguar
Bremont Jaguar watches really do epitomise that classic British style. There are five watches in the collection - four dedicated to the road-going Jaguar E-Type, celebrated as being the fastest production car in the world when launched in 1961, and one paying tribute to the Le Mans winning D-Type car which is a limited edition chronometer in the famous blue pantone of the Ecurie Ecosse racing team. Featuring 43mm cases and leather straps with contrast stitching, the Bremont Jaguar collection is the perfect mix of style and impeccable craftsmanship.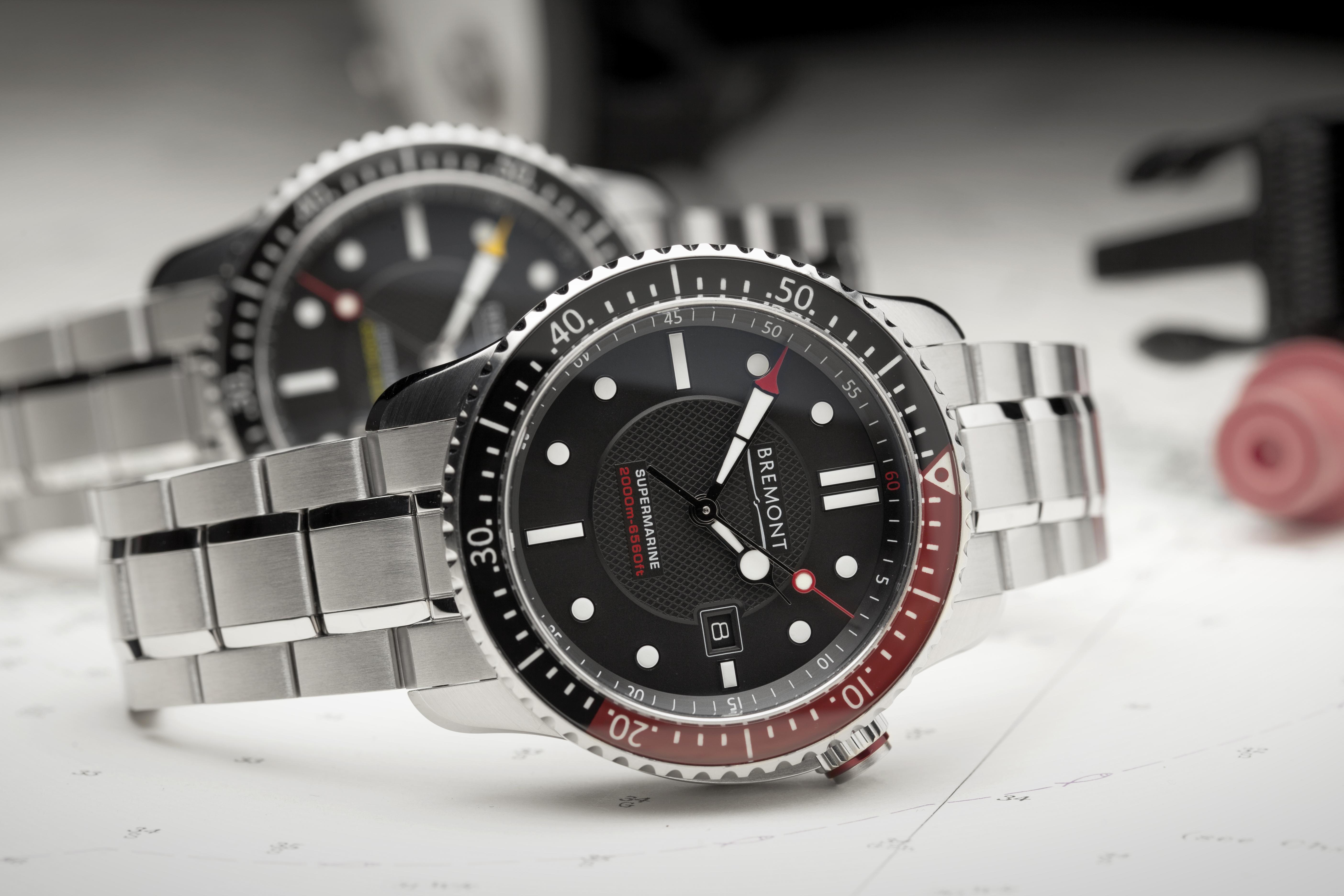 Bremont Supermarine
Used extensively by professional divers and the military, the Bremont Supermarine range is available in three case sizes, the Bremont S300 at 40mm, Bremont S500 at 43mm and the Bremont S2000 at 45mm. With Super-LumiNova® numerals and markers, the signature Bremont Trip-Tick® case, certified chronometer movement and water resistance from 300m up to 2000m, it is the perfect watch for professional divers or someone who loves that sophisticated, sporty look.
Bremont Martin Baker
Perhaps one of Bremont's most iconic collections, the Bremont Martin-Baker is a highly collectable timepiece and exhibits Bremont's commitment to continuously push the boundaries. Martin-Baker is a true British aviation institution and is responsible for supplying up to 70% of the world's Air Forces with industry-leading ejection seat technology. The Bremont and Martin-Baker collaboration began in 2007 when Bremont was commissioned to create the MBI, a collection exclusively for pilots who've ejected from an aircraft using a Martin-Baker seat.
The MBII and MBIII, which are available to everyone, soon followed and are the ultimate aviation timepieces. Not satisfied with simply donning the Martin-Baker logo, this collection has gone through the same extensive testing as the ejection seats themselves. With a 43mm case and the option of a black or white face, contrast stitching on the leather strap and bronze, orange or anthracite sides, this collection is both a triumph of style and technical excellence.
To add a personal touch, you will soon be able to use the online configurator to design your own 'bespoke' Bremont MBII, choosing your own case barrels, dials, caseback, case finishing and straps with over 1,000 possible combinations available.
How much is a Bremont watch?
With models starting from as low as £2595, and the average cost of a watch in the core collection being around the £4000 mark, Bremont is an attainable luxury watch brand.
At Ernest Jones, we believe in making your experience as enjoyable and stress-free as possible, so if you'd prefer not to cover the whole cost upfront, we offer an Interest-Free Credit option. Available online and in-store and only requiring a 10% deposit, the rest of the cost is split into manageable monthly payments over a 6 to 48-month period. Completely interest-free and with no early settlement charges, taking your dream watch home is as easy as that!
Caring for your Bremont watch
Bremont watches are incredibly durable and are engineered to be long-lasting timepieces. However, in order to ensure your Bremont stays in top condition for generations to come, a bit of TLC may occasionally be required. At Ernest Jones, our highly skilled, on-site technicians can help with everything from cleaning and servicing to repairs and testing.
Explore Bremont online or in-store
Bremont epitomises British engineering at its finest and is the perfect choice for a lover of adventure, or someone who seeks a watch of undeniable quality. Browse the Bremont watch collection online today or visit us in-store where you can try on your favourites and our helpful team will be able to answer your questions.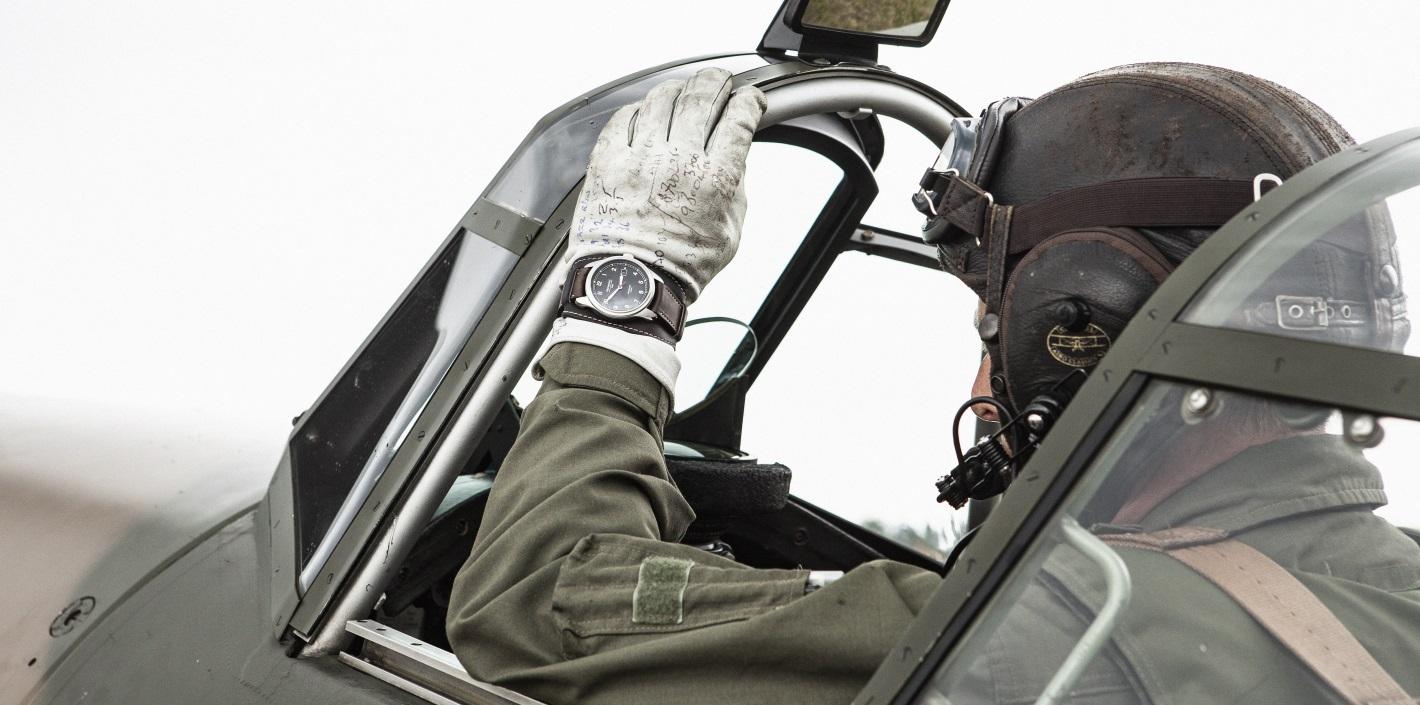 Book an appointment
You can even book a free in-store appointment with an expert at your local Ernest Jones, or you can book a virtual appointment and have your questions answered from the comfort of your own home.
Ready to continue the journey? Head over and explore the incredible range of Bremont watches online and find the perfect timepiece.